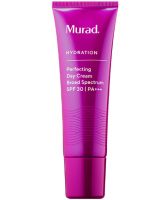 Felt way too this and goopy.

i didn't like the day moisturizer at all. It says on the label for oil control, which I do no have oily skin at all! It felt super thick and heavy. It was kind of hard to smooth over my face.

Murad Perfecting Day Cream

This is a slightly rich daily moisturizer with a good SPF level. I don't use this all the time, but on days when my skin is feeling just a little too dry for my liking. I don't recommend this one for wear under make-up, as it does seem to bring a bit of oil to the surface that you don't want when you need even make-up application. I'd say this is fine if you;re going to blend it with some tinted m...read moreoisturizer and you're not going to wear anyther make-up on your face aside from blush, but any ore than that and you can forget using this. But if you're looking for protection and you're not going to be all made up, this is a quality product to choose. It may or may not be right for your skin, so I highly recommend trying out a sample tube first.

Very hydrating!

This daytime moisturizer has been GREAT for my dry sensitive skin. A staple in my collection for over 2 years now. I sometimes try to find another lotion to use in the morning with SPF since the Murad one is a little pricey but I always seem to end up coming back to this one. Probably not that great for people with more oily skin but for more dry skin...this is the best!

Back
to top