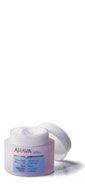 Good to use after exfoliating

My skin is combination oily (T-zone). One time I had a terrible breakout and I made it worst by using benzoyl peroxide spot treatment in large area of my cheeks and my skin peel like crazy and dry. All of my moisturizer are for oily skin and didn't work , I had this ahava moisturizer in travel size and it worked like magic!! Like it said,the texture is very smooth. It's instantly calm my skin, but...read more suprisingly it won't work for dry spots. Since then if I do my deep cleansing or deep exfoliation I use this moisturizer afterward.

Like it

It leaves my face soft,good for winter.

Smoothing combination skin everywhere...

This moisturizer is worth it's weight in gold, absolutely perfect for combination skin types. This moisturizer absorbs quickly, also protecting your skin from environmental damage. It works swimmingly as a make-up base, too. This is a day cream, though I use it at night before bed. I even rub this stuff right over my acne, and never responds negatively to it (I've used this line for a couple month...read mores now). Ahava is one of the only moisturizers that doesn't cause my skin to react badly, too. Ahava moisturizer was made for sensitive skin- no redness here. Only reason why I give this moisturizer 9/10 is because I wouldn't call it a "cream". I find it a bit thinner than a true moisturizing cream. But whatever texture it is, it gets the job done well... Wake up to smoother than smooth skin with this last step in the Ahava line!

Back
to top