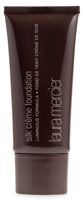 heavy coverage

this foundation is amazing. it is great for anyone with rosacea or problem skin. my friend with redness had porcelain skin after she used this with no traces of redness. i have acne and this just covers it up amazingly well. it is heavy coverage but it feels like silk. so easy to blend. i love this!

Conceals Beautifuly!

I have lots of leftover acne scarring and redness from my teens and this product never fails me for a flawless fresh and natural faced look. Thank you Laura Mercier!

Insufficient Coverage

Pros: This line has lots of colors for a great match- a big plus for me as asiany yellow/green undertones can be difficult. For the record I'm NW 18 in MAC Studio Fix fluid, and Bamboo Beige in LM. The foundation is super blendable and feels super smooth and creamy during application. While coverage is light, it will wear for a full day if you set with powder. I've been using it on and off for...read more 4 months now and haven't any issues with it clogging my pores or irritating the sensitive skin around my eyes. Cons: The coverage isn't complete enough for me. I asked the associate at Sephora for LM's heaviest coverage foundation, and this is what she recommended. This just didn't cut it. With my usual MAC foundation I can build coverage over my eye circles to the point where I don't need concealer, there's no change of building that kind of with this, there's just too much moisture in it. For me, this foundation never fully sets on its own; I only bother putting it on if I have time to set it with powder, and trying to build after setting with powder is a gross looking disaster. There's no sunscreen in it, which means this isn't a quick application foundation. You have to have the time to apply both your sunscreen base, AND set the LM with powder. If I didn't set it with powder, it didn't wear till the end of the day, and worse, the foundation would travel into my eye make-up and make it run. Conclusion: This foundation will work for you if you are seeing a natural dewy look. I ponied up the extra cash for it, and will use up the tube (on days I only need very light coverage) but I won't be buying it again.