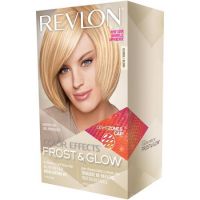 Process with a cap is dated

You really need another person to help you pull hair through the cap. The results are acceptable.

really nice

I recently got my hair reverse ombred at the salon and wanted to go back to my natural blond at my ends. I tried the frost and glow highlight and used a balayage technique as opposed to the highlight cap to lighten my ends. I really like how it turned out. It looks very natural and close to my virgin roots.

Does the job but wrecks your hair.

This is probably one of the harshest things you can use on your hair. Can leave it feeling like straw. When it comes to going this blonde you really need a professional. Also plan on using half your hair when you use this stuff. Also make sure you leave it on long enough or you will end up with orange or green hair. Ever time I have used this it damages my hair so much that it take me a LONG time...read more to get it back to healthy and strong. I have learned my lesson and now suck it up and pay to get it done by a pro.