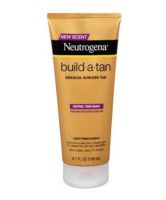 Editor's Rating & Review
Of the gradual tanners, this gets the darkest results the quickest (you get a full shade darker in about four days as opposed to six or seven with Jergens). And the color is pretty natural looking. But with the stronger level of the tanning ingredient DHA comes a few complications: The stinky chemical smell is a little stronger and it's easier to get streaks -- especially if you're pale. And rope off a good 10 minutes to hang out naked, since it takes longer than the fives minutes it claims to dry.
Reviewed by the Total Beauty editorial team on 09/19/2007

How we review products
It's Nice

It give a little color at a time without going overboard. I buy this product all year long to keep the ghostly look away. When summer comes I bump it up to the "Medium" Neutrogean to give myself a faster tan when I want to wear summer clothes.

Color Glow

I liked this bronzer from Neutrogena because it did give my skin a subtle color change and a nice glow. The formula went on smoothe and not greasy, but it did leave my hands and cracks in my skin a little orange. The formula changed my skin tone a gradual darker color after a few applications.

A radiant orange glow but not a tan

I started to use this a few days ago and I had a subtle glow. However, now going on only my third day of using this self tanner, I have quite a few visible streaks. Streak-free my bass!!! I feel like instead of having a nice tan I look orange. In the sun, the orange color is more noticeable.

Back
to top