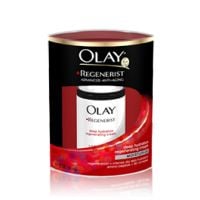 Another "Hurray" for Olay!

I still laugh when I pick up a "new" Olay product and think of the years and years that it was a simple pink fluid in a plain black-and-white box. Wow, have things changed! This potent formula uses an amino-peptide complex to soften and rehydrate skin. It is said that peptides can stimulate the production of collagen. It also has Vitamin E, uses in moisturizers for ages, and Pro-Vitamin B5. I...read moret smoothes incredibly, gets rid of furrows, and gets rid of any crepe-paper texture you may be starting to see.

Too young for this

was so heavy on my skin, I ended up breaking out. Not a good idea to use when young and your skin doesn't need anti aging..

Luxury Moisturizer

I was given this moisturizer by someone who believed it too creamy for her. Because my face has gotten drier over the years I felt that this cream was pure luxury. After rubbing it into my skin, my face felt soft and smooth. I felt I received a free gem from a department store. Another winning Olay product!

Back
to top