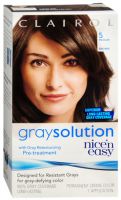 works well

this haircolor works really well. you just have to use a color shampooa dn conditioner to avoid turning brassy.

Great Product!!

This worked well! I have used a number of clairol products and they never disappoint!

Clairol Gray Solution

LOVE, LOVE, LOVE!!! This is by far the BEST hair color money can buy if you want to cover ALL your grays. Not only does it cover gray, the color is gorgeous and it leaves hair so soft and shiny. The only problem I have with this product is NOT FINDING IT anymore! Where the heck is it? I have tried every other coloring product out there and NONE compare to Clairol's Gray Solution so let's get it back on every drug store shelf- PLEASE!!!