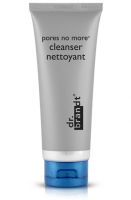 Effective, harsh

I got a sample size of this in a set (with the other Pores No More products) and used it consistently for a 3 day weekend and saw results by the 2nd day (when used with the other products--I haven't tried it alone yet, but I'll update this review as needed when I do). I haven't used the cleanser (or any of the other products) since that weekend and it's been 4 days and the results haven't faded! I...read more think that is what is most impressive to me. The cleanser itself I'm a little wary of, though. It has a very chemical kind of smell and it feels harsh on my skin. It didn't make me break out or make my skin red or anything, there was just a slight burning sensation while it was on and for a bit after rinsing and that sensation was stronger on the 3rd day I used it (which is part of why I took a break from it). The instructions are also very specific that you need to keep this cleanser away from your eyes, so it kind of annoyed me that I had to wash my face then use a makeup remover separately to cleanse around my eyes. I'm going to try all the products separately to see how they do, but I could see me buying this cleanser to use one or twice a week to maintain that smooth, poreless look. Update: This cleanser alone does nothing for my pores. Also, this stuff is REALLY harsh. Even if I haven't used this cleanser in weeks using it even once makes my skin hurt. I don't normally have sensitive skin, so if you do I'd be very careful of this one.

Surprised and happy

At first I was a bit wary because of the price, but to my surprise the product acutally improved the appearance of my skin, it took a little over a month to see changes/results, but I think it is worth investing in. I still had breakouts, but it seemed like my skin was acutally improving.

Leaves skin feeling silky smooth!

I love this product! It smells medicinal and tingles a little. I can really feel it cleaning my skin. Combine with a moisturizer and its the perfect two-step regimen!

Back
to top