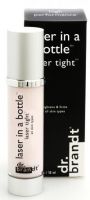 Is it still available?

All of these reviews are from 5-6 years ago. Does anyone know if they brought this product back? I'd really like to give it a try.

Why is your product unaviable?????

I firts tried your product 2 months ago referred from a friend that is a flight attendent. I went to purchase another bottle only to be disappointed that your product is no longer available....I really like the product and hope that it will be on the market very soon.

It makes a difference

I am a little over 40 and have started seeing some brow lines and wrinkles around my eyes. I have been trying several products to see if any products work. Most of the products I have tried I have not seen a change in my skin. Dr. Brandt's Laser Tight actually makes a difference in my brow lines that I can see! I have a hard time spending lots of money on skincare stuff but if you can find this product at a reasonable price I would really try it.

Back
to top