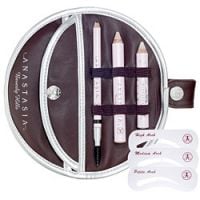 great gift!

I received this as a gift a while back and I have loved my brows ever since. The pencils are very creamy and last long. The stencils come in many shapes to fit your face. This is truly a great kit!

Great...I just wish the arch stencils were re-usable

This kit is just great! It came with everything I needed to get to-die-for eyebrows (I have that type of facial structure where good brows are a must to frame my face). The brow pencil comes with a spoolie on the other end (to brush brows) and the highlighting pencil and wax pencil work well together. My only problem with this kit, was that the arch stencils aren't meant to be re-used. The normal...read more Anastasia stencils (that sell for $21) are plastic and re-usable. However, the ones that came in my kit are made of thin, sticky paper. But other than that, it's a good kit, well worth the money.

Great Kit!

I have to say, I have never paid much attention to my brows until I got this. I did have them waxed once upon a time but I hated the result so I just kind of let them grow in. This kit has inspired me to do more with my brows. I haven't actually used the stencil but I use everything else everyday. The pencil is great for filling in and defining - I can't believe how much younger I look with fuller...read more brows. The waxy pencil keeps everything in place. As for the brow highlighter, I use this under my eyes instead of on the brow bone. It makes my brown eyes pop. Definitely a keeper!

Back
to top