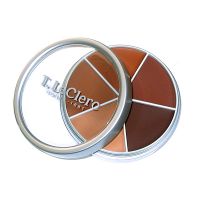 T. LeClerc Camouflage Palette
As low as
No caking!

I'm a big concealer fan, but have a problem with caking. If they don't cake they don't cover! That is not the case with T.LeClerc products. I started using them about 7 years ago when I found them in the pharmacies in France. I am so happy it is so available now in the US

Not much good to say

I bought this, a foundation, brightening cream and a brush at a local boutique. I was given a history of LeClerc, how they have been making makeup for so many years, etc. Okay - so I bought. This pricey creme imediately settled into every line, caked up without any powder fixing it, and was an all-around disappointment, considering the price tag. I still use the brush, but the rest of it sits as an expensive regret in my reject pile.

Back
to top