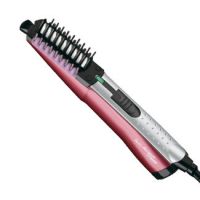 ok

i like the one w/the dryer better

The magic brush

Best product to straighten wavy mid length hair. You must dry your hair with a blow dryer to about 80% dry and use this to finish. Don't use this on soaking hair it will not work well for you and you will take forever to dry your hair.

STUPID PRODUCT

It dries your hair, but the heat isn't focused so it does little to prevent frizz- you HAVE to use a styling product. It's in no way comparable to an iron or a traditional blow drier in terms of heat, and the little comb things are useless because they don't have any grip. I'm giving mine away. Best bet: a chi iron, a good blowdrier, and a good round boar's hair brush.

Back
to top