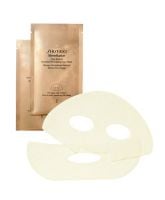 Shiseido Benefiance Pure Retinol Intensive Revitalizing Face Mask
As low as
Expensive but revitalize and rejuvenate skin

I used one pack (4 sheets) just once. Each mask is soaked in serum. After using this, my skin felt very hydrated and soft. It gets better. The next morning, my skin was smooth and felt even tighter, and my foundation went on smoothly. I have oily/combination skin with visible signs of aging but these rich nourishing masks did not give me breakout. I love how this mask makes my skin feel and look, ...read morebut it is way too expensive for one-time use mask. I bought the Sephora Power Mask instead. The results were not even close. Oh how I wish I could have this every 3-4 days. If money is no object, please do try this mask.

love it

Great product. My skin looked really bright after I used it, I'm done with my first pack, hate to spend the $'s for more but it's worth it. I exfoliate before I use a mask and save the packages after I open them in a Ziploc bag, there is so much extra cream in the pouches. Against expert opinion I'm sure, I use the lotion the rest of the week.

Refresh Yourself!

I used this product in the past and forgot how wonderful it is. I found a set recently and used it last night. THIS IS HOT! I don't mean temperature either. This mask is great for rejuvenating your skin. I couldn't believe how much better my skin looked. The directions say use it for @15 min. I use it longer to get my skin to absorb it all. You have to; it's expensive but well worth the dollars. Try it. You'd be amazed.

Back
to top