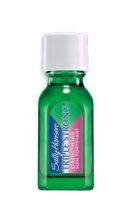 i absolute love it!!! It's great to make strong nail!!! And it seems like i wear acrylic nails!!! :D

very good

i used this nail fortifier after i took off my artificial nails... you know what your nails look like after taking off artificial ones... so i had to make my nails stronger in a short time, and this product helped me a lot! i used in every five days or so as a base coat and as a top coat to a regular nail polish... in 3 weeks my nails were as strong as before the artificials! i didn't use any other product!

Good Stuff!!!

Keeps my nails strong. Shiny so it seems as if I've buffed and such but the only drawback is that you have to reapply every two days. But let me say that it is sooooo worth it!!

Back
to top