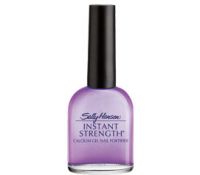 after so many praises...

I feel badly to say that I didn't see any difference. However, I'm very active, so I'm sure scrubbing counters/floors, coloring me hair, painting and sanding paint don't help. After all, it's not cement, which would also break down under pressure. But, I do have something nice to say about this product. My boyfriend loves manicures. Not sure whether it's the primping and loving attention, or ...read morethe product. But when we're done, his newly cleaned, trimmed nails looks great and very professional with two coats of this on top. He also does a lot of landscaping and says it lasts.

It works

My nails chipped and peeed until I used Sally Hansen Nail strengthener. It even worked when I spent the whole day typing on the computer and it also helped me resist biting them. I am finally getting the long nails I have always wanted. Sally Hansen is great! Excellent value for the price too!

The cure of weak nails

I have very weak nails that bend and break all the time. I started using this as a base and top coat at home when I gave myself manicures . After abut a month, my nails are noticeably stronger.

Back
to top