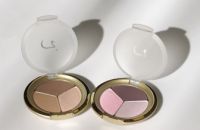 Color stays!

No touch up needed. Love the oyster and supernova. Get compliments on my make up for the first time ever.

Value for the money

I thought these were only 'so-so'. They were expensive (~$28) and for me they didn't seem to last any longer than my eyeshadows <$15. Save your money and try something else.

Jane Iredale Pressed Eye Shadow

As almost all of Jane Iredale products I give this one a 10 as well. I am a makeup artist and I have used them on my brides and they do last allday without creasing. It is also great on older eye lids as long as you use a primer. The price is will worth the money since like all her products they seem to last forever. Go out and get yourself all of them and use the darker colors for liners and the brown is a perfect brow color.

Back
to top