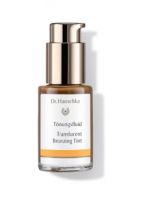 good bronzer

one of the better bronzers on the market. still need to be careful not to use too much.

Dr. Hauschka a Bronze Concentrate

A+ product. Dr. Hauschkas Bronze Concentrate is amazing and very versatile. You can apply it by itself, mix with your moisturizer and/or foundation, use just on your cheekbones for added color. Note that there's no shimmer and it does not streak. You really do look natural and sheer, not orange at all which is hard to find. I like how you can see what you are doing because of the color unlike othe...read morer self tanners that have no color. It evens out the redness on my face, doesn't clog my pores and its actually pretty hydrating. I love how it leaves your face with color right away.. I shake it up well each time I apply it. Anything natural I shake well being that everything sinks. I like to mix it with my foundation to be darker. I love to tan but lately I'm worried about getting wrinkles and have a sun spot on my cheek from using the tanning beds for years. I can't say I'll never go in a tanning bed again if i have a special occasion to go to in the winter. Although I'd much rather lay outside in the natural sun. I've tried several self tanners and everyone has made my face breakout. I personally love color on my face. I bought a few different ones but this one is my favorite so far and has not made my face break out at all which is most important to me. Initially it was meant to conceal skin imperfections. Anyone who has sensitive skin needs to buy this. Whats nice is when before I bought it, they had a tester one out which helped me decide if I liked it when applying. I love that I cant feel it on my face, super lightweight and not sticky at all..definitely dont neglect your neck, although us tanning gurus know that

Favorite product

This is my must-have product. I mix it with mineral powder foundation for all-over face color and stiple it on as blusher. Best product I've used for diminishing rosacea redness in cheeks as well. Love it!

Back
to top