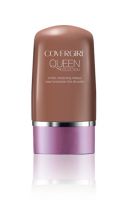 Matches Perfectly

This is the only foundation that I've ever used that blends into my skin perfectly. Even some of the more expensive foundation doesn't blend in as well. My skin is very difficult to match and I was extremely impressed. I have very oily skin so to preven it from "melting off" too soon I have to follow up with either a setting powder or powder foundation, then I'm good for almost the entire day. I would recommend to other women.

matches my skin

great feeling and looking. the price is right

Covergirl Foundation

I avoid it because I know about their cruel animal testing! I will NEVER use it again as long as they continue!