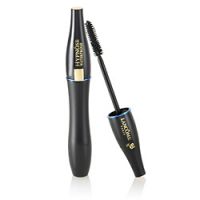 Luscious Mascara!

Lancôme products are generally exemplary, and this mascara is one example. For many years I was pleased with using "Definicils." It separates perfectly. But I wanted more volume. Lancôme's "Hypnôse Star Waterproof 24 Hour Mascara" delivers both--exceptionally! It was actually inspired by both Betty Boop™ and model Daria Werbowy. This delivers buildable, pliable volume and length (the so...read moreftness reminds me of Maybelline's "Full and Soft"). Perhaps part of the secret is in the dual-sided brush. One side is straight; another is fluffy. Between the two, you can capture, color, and maximize every last lash. Lancôme suggests that you use this within ninety days. Good for them! Mascara is one of the first products which can be easily contaminated. So toss it after three months and buy a new one, especially when there is a gift with purchase.

The Best One Yet!

I am always on a quest for the perfect thickening and lengthening mascara. I saw an ad for Lancome in a magazine, and decided to check it out. I was using Urban Decay Big Fatty, which constantly clumped. I tested the Hypnose Mascara at the Lancome counter after removing the mascara I was wearing. I was so surprised! This mascara not only thickens,but also lengthens. My eyelashes look as good...read more as wearing false lashes, but even better because I don't have to go all the trouble of using false lashes. I discovered something very interesting. The Lancome salesperson had me use a disposable mascara wand to apply the mascara. After I applied it, she handed me another disposable wand, and said to brush it through the mascara. This is THE secret to non-clumping mascara. I used the brush on the Lancome Mascara, and it really separated and also lengthened at the same time! She was kind enough to give me a handful of the disposable wands when I bought the mascara. She said for best results with this mascara, apply one coat, brush with the disposable wand and apply another coat, and brush through again. If you do it a 3rd time...WOW! Long, thick, non clumpy lashes. I highly recommend this mascara.

Just Okay

This waterproof mascara is good but I don't think it's for me. The length of the brush is larger than normal mascara brushes that I've had in the past and the brush makes it hard to maneuver around my short lashes. The mascara also comes on slightly clumpy because of the length and shape of the brush. The waterproof part is great and it can last all day without smudging. However, it's also very to...read moreugh to remove with the makeup remover that I have. Ultimately, this mascara did not give me results that I hoped for.

Back
to top