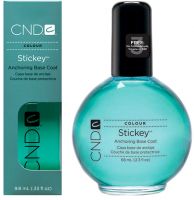 Fantastic

Apparently the point of this non-yellowing base coat is to give something to your polish to "stick" to. Good idea, but in my case, I accidentally once applied this as my base coat and forgot to polish my nails. It dried rock hard. Good for me, bad for the point of the product? Even though that happened to me I still give this a good rating. I only wear dark polish and before this I would...read more have yellow nails all of the time. Does not have hardening ingredients, so if you need a nail fortifier try something else. I have naturally hard, strong, no ridge nails (curse me, I know), so this is perfect.

GOOD STUFF

I've been using 'Stickey' base coat for over a year now and it works. It is a base coat and not a nail hardener. The directions stipulates to coat the nail and immediately apply this base coat, so what I do is > do one hand at a time then shift to the other hand. I know, strange but it is effective. It does keep your nail lasting longer than a week. Worth give Stickey a try.

YaY Mr. Sticky!

I have been using sticky for years on all my mani clients. Polish always last at least a week on natural nails. Won't manicure without it!

Back
to top