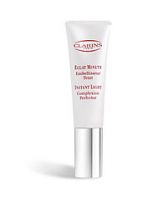 I wont be without it now!!

I have tried many types of products from all lines but hadnt had much to do with Clarins. Read about it in an article suggesting it would add a glow when mixed with foundation. I was obsessed for some reason and after 2 weeks was able to find it.(several mnths ago)It is pricey but well worth the cost. I got the light shade rose as I am pale. I have used it under fondation but feel thats a waste ...read moreso I mix directly with foundation or if using powder I dot it on spots that reflect light as a highliter. Just bought the brush on perfector from same line, think ithas changed recently as isnt like the red stick I see here, will review it seprately is significantly different from others in this 4 piece collection. Buy again for sure!!!

states just as the ladies on here say!

I begin looking for concealers while revamping my makeup. I looked tired even after good sleep. (getting old stinks at times) So I found this and grabbed the best. I was not disappointed. It is wonderful to wear under makeup and in fact, I wear less because of it! Today I have it on and some compact powder on top with a little coral blush and curled my eyelashes, done! A great look for Saturday. T...read morehank you ladies for your honest review especially to the lady that talked about wrinkles around the eyes. I call mine smile lines...giggle

Don't wear makeup without it!

This is the best primer I have ever used. Better than Smashbox or Mac Strobe Light creme. It evens out color and then adds a "light from within" glow that is not greasy. And it is fabulous casual days if you don't want to wear anything over it. ALWAYS keep this around!

Back
to top