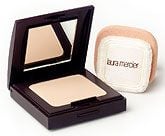 LAURA MERCIER FOUNDATION POWDER

A few years ago I was searching for the perfect tinted moisturizer and powder combination. This powder gave a bit of extra coverage to the light weight foundations I tended to apply. Also didn't settle into pores or fine lines. Used on my t-zone with kabuki brush or sponge applicator provided. Afterward I lightly mist to prevent a cakey/powdery look. I avoided shade No. 2 because I feared it would...read more play-up my skin's pinkness, and used No. 1 in winter and No. 3 in summer. Overall I like this product and it performed as intended. Seems more suited to oily-normal skin types, and now I prefer more of a dewy finish than this allows. I have been using this foundation ever since I saw my friends skin with it on. I love it! Yes it is expensive however I have oily skin and I only need to apply it in the morning and I don't have to worry about shine for the rest of the day! So given that I only use it once a day it lasts for a while. I just makes your skin look flawless. I also use cover girl liquid foundation underneath it so that probably helps make it really stay on. Love it and wouldn't use any other powder! Trust me I've tried them all! This powder is totally an HG for me. I discovered this last April after a Mac powder broke me out. My mother had bought this powder for herself, but gave it to me to see if it would help with my skin issues. There are just not enough good adjectives to describe how great this product is. For a powder foundation, the coverage is amazing and it has a really good staying powder on my combo skin. When my skin gets oily, rather than making me look shiny, this product makes my skin look like its glowing. This powder feels comfortable on my face and doesn't make me look chalky or too powdered. I use it dry and buff it into my face over concealer with a fairly dense kabuki brush (aka Mac 182). Various friends and family members of mine have more than once commented on how flawless my face looks whenever I wear this product. Another great plus is that this powder lasted me through an entire 6 months of everyday use!! I am now on my second compact, and will continue to buy it if it continues to be this amazing. I'm an NC25 in MAC, and got this powder in No 3, and I feel like it matches perfectly. The powder is very finely milled, and is so soft. My boyfriend even complements me on having a soft face! If a boyfriend notices, you girls know it's major! haha The staying power of this powder is great, and I have oily skin. I've even made it through a day of classes and afternoon lacrosse practices, in the south Florida heat and humidity, in the summer! That's impressive to me! I apply this with my Ecotools bronzer brush, and it gives me full coverage. I've found that swirling a brush in this compact does tend to kick up a bit of powder. I just tap the top of my brush into the powder and press it in without swirling and it gets me plenty of powder to apply.

Love that Skin Stuff

This product has changed my make-up life. Not sure if I consider it a powder or a cream but it goes on smooth and makes my complexion flawless. I cannot wear liquid or standard cream foundation and powder along is very dry looking but this product goes on smooth and does not irritate my skin. It also lasts thoughout the day and endures the elements and even sweat very well. For the first time I can have a polished look without heavy-duty maintenance.

Impressive Coverage

Even when worn alone, the coverage of Laura Mercier's Foundation Powder is amazing! It applies so smoothly to the skin that you won't even know it's there, yet the presence is clear on your face. This is by far my favorite powder, whether it's used to set my foundation with a fluffy powder brush or applied on its own when I'm in a hurry with a thicker, denser brush.