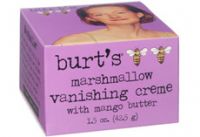 marshmallow = sticky

this creme looked and smelled promising - until i put it on my face. it did not "vanish" as promised or sink in to moisturize my skin; it just left a sticky, greasy layer i immediately washed off.

way too greasy

This was in a sample pack I bought. I only used this once or twice. My face, which is combination skin, was an oil slick after using this. I had to tissue off some of it. This would probably be best for those with very dry skin. I'm staying away from it myself.

Not for anyone who EVER gets zits

I wish I'd read the ingredient list before being seduced by the pretty purple box and marshmallow-sweet scent of this product. I do get dry skin, but a girl who also has some acne issues CANNOT use a cream that contains FIVE different ingredients with the word "oil"! The cream was way too greasy for me. I returned it to the store after the first use (lucky that place had a good return pl...read moreoicy), so I didn't have to suffer the breakouts that this would have inevitably caused. This might be good for an older woman with incredibly dry skin...but if I was old, I think I'd want some anti-aging ingredients...I don't know.

Back
to top