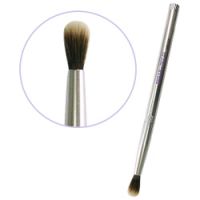 Amazing!

This picks up so much product on each pass and delivers it right where you want it. The bristles are softer than I am used to, but they blend so well.

Best Crease Brush

This is the best crease brush I have ever used. It deposits colour right into the crease without going too far above or below. Easily controlled application. Also good for blending crease and lid colours for a seamless look.

Fabulous!

I bought this because it was cruelty-free and I found it on clearance--I wasn't really sure how to use it at the time. I'm not very good at applying eyeshadow, but this brush makes my eye makeup look professional. It's soft, animal-friendly, and applies color to the tricky crease area with perfect results. Now I use it every day!

Back
to top