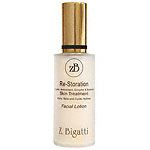 Great for resurfacing your skin

This is a great product if you have acne, uneven skin tone and texture. I first used this about 5 years ago, and my skin was bumpy where I had broken out. It really smoothed my skin down and started to even out my old acne scars. My skin was sloughing off during the day. I did use some recently, and it felt a bit oily for my skin and I am not sure if it caused a breakout -- hence the knocking ...read moreoff of one star. It is a strong product with the active ingredients, but it is definitely worth a try if you have bad skin. Keep in mind that the price is high, but it is for 2 oz of product and not just one oz. I like the lotion better than the cream.

terrific lotion

This lotion from Z. Bigatti gives you the benefits of the Restoration cream in a lighter lotion formula. It keeps your skin soft and very touchable. It also helps to eliminate fine lines and wrinkles while leaving your skin glowing. I use both the cream and this lotion. I usually use the lotion in hotter weather. It doesn't bother my skin at all even though I have VERY sensitive skin. It's a good ...read morevalue for the price as it's much more than a simple moisturizer. Plus a little goes a long way.

One stop shopping

This product is amazing. I had read the reviews but was hesitant to pay $155 based on someone else's opinion. I received a free sample from skinstore.com and was instantly hooked. After squeezing ever last drop out of the sample pack, I purchased a jar and really feel like I got a bargain for the results. My skin looks younger and has a glow to it. Totally worth the money!

Back
to top