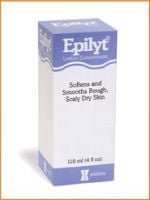 Stiefel Laboratories Epilyt Lotion Concentrate
As low as
Enhances the facial tissue in days

I have used Epilyt for years before applying any moisturizer. I am amazed at the glowing comments from friends and strangers. I have continued to enjoy compliments regarding the radiance of my facial UNTIL I FIND THAT STIEFEL HAS DISCONTINUED MANUFACTURING AND SUPPLYING EPILYT! Does any drug store, deamatological store carry this and surplus of this product? Marilyn

very good on dry skin

a big difference in you skin in just a few days. Would recommend.

Back
to top