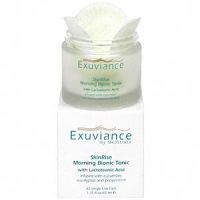 Worth of money

This product totally awakes my skin! I have complex skin and after I found Exuviance line - I never gonna give it up! After using 2-3 weeks these products you can see the difference. Your skin looks and feels much more healthier than before!

feels great

It has an invigorating scent and feel. Leaves skin super-moisturized, but it takes a while to absorb into the skin, so do this first, then go brew some coffee or get dressed before finishing off with moisturizer and makeup.

Cut them in half to save money

I've found that I can cut the pads in half and still get plenty to cover my face and neck. I use them first thing in the morning, but find it is a little too much if left on under makeup, so I do a quick splash before. I have normal to oily skin and live in a humid climate, it might be ok with dry skin or arrid climate. If I notice a difference after a Santa Ana, I'll update.

Back
to top