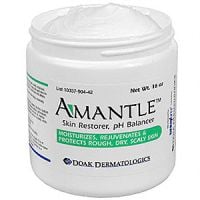 Doak Dermatologics Amantle Moisturizing Cream
As low as
Miraculous as diaper rash cream!

I had never heard of this product until I talked to my pharmacist about my baby's diaper rash that was getting worse and worse. All of the other products that normally worked great were not touching this one. He recommended Amantle, they keep it behind the counter at the pharmacy and you just have to ask for it. It worked miracles! I have recommended it to all of my friends with babies. It's great for other skin problems, too. I won't be without it now.

Doak I LOVE your product!!!!!!!!!!

I have used A-Mantle for almost 30 years. I do use it every night before going to bed, and when my hands become dry during the day. I was allergic to my daughters disposable diapers.(come to find out many years after I have a sensitivity to the plastic outer piece and laytex) My hands were cracked, raw and very painful. A-Mantle has helped heal and keep my hands soft and smooth for all these year...read mores. This is the only product that works and is non greasy like some other hand lotions. I recommend it highly.

Back
to top