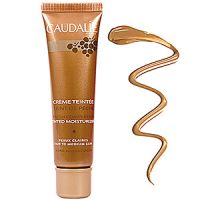 Caudalie Tinted Moisturizer
As low as
FABULOUS Must Have Product

Being a beauty connoisseur, former aethetician + make up artist, I have to say that Caudalie's Tinted Moisturizer is by far an absolute essential in every womans make up bag. It can be used beautifully in 2 ways: 1. On the days you wear foundation, using 2/3 parts of your regular foundation and 1/3 part Caudalie's Tinted Moisturizer, mix them and apply to face. You will get a GORGEOUS glow and com...read morepliments all day long. 2. On the days you are more relaxed and do not want to wear make up, but also don't want to look pasty, applying this in less than a minute gives you much needed color. (Great for lazy Saturdays and Sundays.) I believe this product is the perfect compliment to any and every skin type; from light to dark, oily to dry. Defiantly a product that is under rated and a secret weapon.

Looks Scary-Use sparingly

When I first used this product, I was afraid of the shocking peachy orange color inside the tube. You only need a small amount as it spreads and the color tones down when applied and blended in. It doesn't match your skin, but as the name implies, it gives a glow that makes it seem like you spent a day out in the sun.

Caudalie Tinted Moisturizer

I tried this product from Bath and Body Works and liked it very much. I purchased the one for Dark Skin. It works very well if you have a medium tan and leaves your skin silky. It is quick drying and doesn't look like a fake tan. It does not contain any SPF so you might want to use a light moisturizer with an SPF before applying.

Back
to top