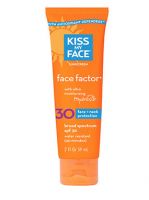 Pretty good stuff

This works fine and is reasonably non-greasy. It didn't cause me to break out like some sunscreens I've tried. This is definitely one of the better natural-brand sunblocks I've used. It's a pretty tiny amount for the price, though.

Great product!

This is a wonderful spf to use on a daily basis! It has a high spf number, but goes on like a light moisturizer. Since it has hydresia it is very moisturizing and has a nice smell that covers up the spf smell. I use it before I use a primer and a foundation, and it doesn't seem like I am putting on too much. It also hasn't made me break out or anything like that. Will definitely continue to use this!

Great product...bad price

As a product I loved Kiss My Face sunscreen. I am a teenager with the most sensative face, complete with acne of course, but the lotion didn't make me break out anymore. It was a tad greasy, but was natural and smelled heavenly. If you're fine with a little bit a oil and the price seriously buy it.

Back
to top