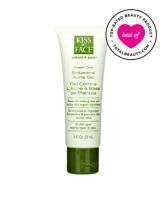 Not great

I'm giving this a few stars because it felt nice and smelled good, but ultimately I don't think it had any effect on my breakouts.

Totally different than what I've used.

I'm used to using a clay spot treatment or Mario Basescu's Drying Lotion, so this was different since it was a gel. I had 3 not-so-pretty friends growing bigger on my chin by the day, and in 2 nights-- this had almost eliminated them. If I could change anything-- it would be how liquidy the product is. But then again, that could be just because I'm used to clay! It smells pleasant and has a cooling and soothing sensation too which is nice.

Exclusively from the editors at Total Beauty

Get the Buying Guide to see these top-rated products!

Get it now »

This one sneaks up on you....,

Even at my age I keep having breakouts and wanted something not too harsh, yet effective. I have been using this for almost two months twice a day and wasn't sure it was having much effect, THEN...!!! I did notice that the chin area that continually breaks out had almost cleared entirely. It also seems to help clear the darker areas where there was breakout and was some scarring. It doesn't sti...read moreng or have a harsh fragrance and I do like that alot. The price point was such that I won't think twice about replacing this when it is gone.

Back
to top