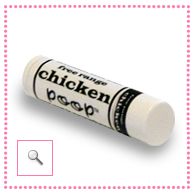 It's ok

I used this product when it first came out b/c I interviewed the inventor of it. She said it was inspired by a farm she lived on but it wasn't real chicken poop. I tried it and nothing really outstanding came of it. I prefer Burts Bees lip balm.

Great Product!!

Bought this as a joke for sis. I figured I would get one for myself since I like products with natural ingredients. Once you get over the name and the mental block, you'll realize it is a GREAT product!!! I love it!!! My son just asked me to buy it for him too! One of the things I love is the lavender smell.

Gloss With Protection

I like to wear this underneath my regular lip color.

Back
to top