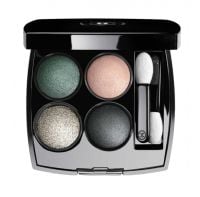 Editor's Rating & Review
What you're paying for: blendable matte, frost and satin shadows in a signature black case fit for a movie star. (Tip: Latch does not survive falls well.) What you're getting: four classic hues and two applicators in one palette along with subtle coverage that's durable, but not much better than that of Revlon's ColorStay 12 Hour Eyeshadow Quad. If it's value you're after, head for the drugstore. If it's glamour you want, spend. (I have three!)
Reviewed by Charli on 10/04/2007

How we review products
Expected better

I have the "Dunes", which is great for the bronze or autumn look. The texture of each color is powdery, but soft and light like velvet. When applied for the first time, I noticed that it was not chalky at all, but at the same time the color was not very vivid. Therefore, I had to apply a few times. For the price I paid, I expected to the color to stay much longer, but unfortunately, I ne...read moreeded to re-apply during my bathroom break. This quad is good for sheer shadowing, but for a more intense/vivid shadowing you will need something like Clinique Touch Base for Eyes.

Beautiful Shades, High Pigment

I have a love/hate relationship with this product, meaning I love the product and hate the price. LOL I have several of these quads and they last forever because they're so highly pigmented that you only need a tiny bit on your brush to get the effect you want. While I normally don't like to spend this much money on a product, if its something I love, can't easily duplicate on the cheap or its s...read moreomething I use daily, I am willing to spend the extra on it. That's the case with this product and I use either Dunes or Prelude on a daily basis. For anyon who hasn't tried this product and wants to, either of the above color combos are great for daily wear and an excellent introduction to this product. Just be forewarned- you will be addicted and there is no 12 step program! LOL

Great Colors!

I love these Chanel quads! They are all so pretty! The only thing, they arent highly pigmented compared to other eyeshadows that I have tried. You definetly need to use an eye primer before using these, otherwise they color will come out very sheer and a bit muddy. They go on pretty smoothly and blend well. These are an investment, so make sure before you buy these that you will actually use all 4 colors. If not, I would opt for the single shadows.

Back
to top