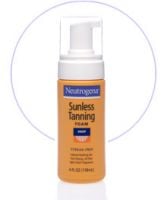 My first Tanner

This was something my mother bought for me a few years back during the winter. I used up pretty much the whole bottle but it did not do anything for me. It smells really awful too! I like Tanning Bed in a Tube much more than this product.

Should be named "Tang Glow"

I have fair skin and I need a little help getting a tan (even a slight change to the tanner side is hard to achieve because I am so light). I tried this product and was very disappointed- I turned orange, the drink mix Tang orange. The foam was easy to apply but did not stay on my skin (rubbed off even when I dried out and did not wear tight clothing for over an hour later). Don't waste money on buying this.

Awful product.

I usually love neutrogena make up and skin care poroducts but every neutrogena sunless tanner I have tried (especially this one!) is terrible. I tried this foam several years ago when it first came out and the experience was so awful I remember it to this day. It was so orange and streaky and It smells discusting. please dont waste your money!

Back
to top