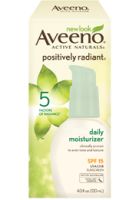 Guest's Rating & Review
Curiously (though not intolerably) edamame-scented, this fast-absorbing lotion boasts the thicker texture of a cream minus the oil. A smidge costly for a drugstore product, the SPF-infused moisturizer is the antidote for acne-prone skin susceptible to flakes in dry climates. Tiny pearlescent particles subtly illuminate skin but fail to even it out. Dispense a dime-sized dollop and mix with foundation in order to maintain "positively radiant" properties. Pump bottle yields hygienic small amounts -- a little goes a long way.
Reviewed by special guest on 04/29/2008
Amber Katz

http://www.beautybloggingjunkie.com
Aveeno Didn't Amaze Me

I've seen Aveeno's "Positively Radiant Daily Moisturizer" on one top-ten list after another. I like the fact that it is oil-free, hypoallergenic, and contains some some protection, albeit only SPF 15. It did nothing to help me glow, and I used it religiously for over a year. My skin did not feel softer. Nor was there any clarity to my skintone. For a wonderful daily moisturizer, Pond's "Clara...read morent B3" has a fluffy, mousse-like feel, uses Niacinamide to safely and effectively dissolve any brown spots or discolorations, and leaves my face and neck baby-smooth (all for about $8.00 for a huge tub).

Really good product.

I use this everday over my sunscreen. My skin definitely glows. Highly recomment,

Good Moisturizer

I use this lotion instead of my usual normal Aveeno lotion and I much prefer this. It is very light in comparison. However it is quite oily and I also have oily skin, making me look like an oil slick at times. However it does say that it is radiant so that is where that plays in. I recommend this product if you are looking for a light moisturizer with spf.

Back
to top