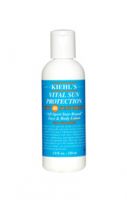 Great!

Like all of Kiehl's products, this out performs all other suncreens. It absorbs quickly and moisturizes.

A favorite

I am sadly prone to sunburn no matter how muvh sun tan lotion I put on. No matter how high the SPF is. With this product, I did not get the slightest sunburn! Now I reccomend this miracle worker.

Super Sunscreen

My husband is a police officer who is out in the sun alot doing traffic and he need protection from the sun. Well he went over to this shop and they recommended Kiehl's Vital Sun Protection SPF 30 and it works great. His skin is protected and leaves no residue. It also is water resistant and is lightweight. I also put it on under my makeup and it does not affect the makeup at all.

Back
to top