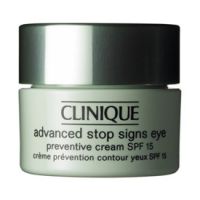 Well, at least it has an SPF...

I really didn't notice a difference. Thankfully, Clinique has such a great return policy. It is really no different than any other eye cream, but it is nice it has an SPF. However, I was later told by a Clinique rep that I could apply the face moisturizer with SPF to the undereye area, so I started doing that to not only save money (recessionista) but multi-task! There are better eye creams out there. It also disolves on the skin well, which is a bonus.

I actually LIKED this product... when I use it right!

Initially - managed to get it in my eyes and wow did that burn! Learned to apply it differently and am still using it (when not experimenting with something else) I cleanse my face at night, use moisturizer or serum but make sure I get this no where near the eye, keeps the Clinique from migrating into the eye. Pat the CASSE under and above eyes. trick seems to be to make sure it is on freshly cl...read moreeansed skin and no moisturizer or serums to help it 'migrate' into your eyes. I do think it makes the eyes appear brighter and tighter.

Love this product!

I love this product! It didn't sting around my eyes like most spf eye products. You couldn't ask for anything better-spf(first line of defense)and it brightens discolorations. And the value is great. It lasts forever because you only use in morning.

Back
to top