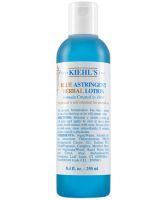 Good Results

I have used this product in the past and was always pleased with the results. I have oily skin and this does a good job freshening it removing any makeup that washing may have missed. It's a great for a quick freshen-up after working out until I can wash my face properly. I wouldn't recommend it for dry or sensitive skin as it could be too strong.

Nice try, Kiehl's

Calling this astrigent a lotion doesn't make it moisturizing, and herbal ingredients don't make it gentle. When I put this on my face, I immediately felt my skin tighten, and not in a pleasant way. I put my usual overnight cream over it and went to bed. In the morning, my skin looked good but was horribly dry, tight, and generally uncomfortable.

First Impressions

I have to preface this by saying that I have only been using this product for about a month but as of right now I am not disappointed by this product. I don't have cystic acne or severe acne but I do have acne problems, especially white heads and I feel that my skin is hardly ever completely clear. I had been using Proactiv for almost 10 years and bought a Clarisonic and decided to get a new cle...read moreansing program. I think this toner has been working pretty well. I have combo skin and it is VERY drying, like within seconds my face feels tight and I need to immediately apply moisturizer. I have noticed though, if I only put a dime size amount on my cotton square it seems to not make my face feel as tight. I wouldn't be put off by the tightness and as long as I use moisturizer my face has not been producing extra oil to offset the drying effect.

Back
to top