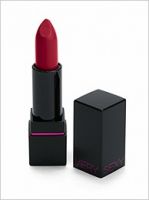 Editor's Rating & Review
Very sexy, perfect lipstick -- could such a product exist? Well, almost. This compact, square-packaged lipstick has an ultra-creamy consistency that glides on beautifully. The colors are rich; I especially like Body Heat, a vibrant coral that is h-o-t. The formula feels great on, probably due to the vitamin E and coconut oil. But it does kiss off, so if you're looking to be sexy with someone else, leave this perfect lipstick behind.
Reviewed by Kristen on 09/27/2007

How we review products
cool

I just got this shade in mauve and I have to say the color is darker then it appears, more of a brownish shade when applied to my lips which is ok, I like it, nice color and goes on smooth.

Maybe it's just me...

I still can not find lipstick that looks even so-so on me. I have that problem alot, so you may want to sample this product for yourself. But as for me, it's no bueno!

From a non-lipstick wearer

Strictly speaking, I'm a lip gloss girl. When I do happen to wear lipstick it is ALWAYS one of the many fine colors offered by Victoria's Secret. The colors look good and wear really well.

Back
to top