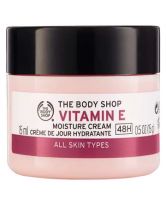 Not as good as other products from this line

While I am a lifelong fan of the Vitamin E illuminating cream from the Body Shop, I didn't think this one measured up. I will stick to the other cream.

So so product... not worth the price.

I received this product free as part of a GWP. PROS: Not greasy. I used it on my face without problems (Accutane-dry skin, formerly very oily + not sensitive). CONS: Smells like cheap hotel lotion, IMO. Not moisturizing enough for my VERY dry skin. Overall, a product that I personally could live without. It's a so-so light moisturizer that might be alright for people with normal skin who like the scent and don't mind the price, but for me, I'll pass.

Super moisturizing

I got a sample of this cream and it is great! My skin soaks it up like a sponge. I use it at night so the Vitamin E can repair my skin overnight.

Back
to top