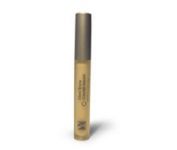 THE PERFECT CONCEALER--HANDS DOWN!

Diane Young's "C Circles Vanish" has a texture which is hard to describe--it contains silicone and is so silky that you actually have to feel it to believe it. Circles vanish immediately with no artificial look. In fact, Diane Young uses light-diffusing properties to enhance your eyes and distract away from any wrinkles you may have. IT IS INCREDIBLE!

great

I dont wear foundation a lot so I love the fact that I can just put this on where I need it and it blends so well that I dont have to put foundation on too. Love it!

GREAt 4 night!

I love this concealer, I usually wear it when I'm going out at night or too dinner! I like how silky soft it is!

Back
to top