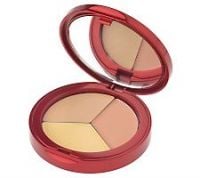 Miracle Compact

Conceal undereye circles, blemishes, uneven skin patches, or anything else with this wondrous kit from Redpoint. These are professional shades made to mask red and blue from blemishes and circles. Use the hues separately or work with them together. This has substantial coverage, although it will never drag on skin or look cakey or artificial. This compact travels with me everywhere!

Can't Live Without

Although it is a little on the pricey side (about $40.00) it last up to 6 months depending on individual usage. The compact is a tailor made concealer. The yellow offets any reds such as blemishs, rosea etc, There are also two concealers that can be used individually or blended to match you skin tone depending on the time of the year. It goes on very smoothly with great coverage. I always use...read more under my eyes to hide those lovely circles from working too much. Use with a burch or simply use your fingertips. You won't be disappointed with this product.

best yet

This is hands down the best concealer that I have ever used. I love how they include instructions for each of the colors, as well as having the different colors themselves. I can wear this alone or with foundation. I find the consistency to be just right, as it seems to melt right into my skin and blend beautifully.

Back
to top