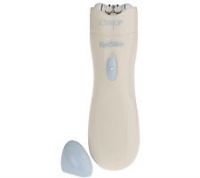 No more shaving!

I have been very pleased with the Emjoi Epislim. It easily removes facial and armpit hair. Instead of shaving my armpits everyday, I use this once a week. Because of its size it takes very long to remove leg hair. This is my first epilator and I couldn't be more satisfied!

Great, Wonderful Buy

I bought this while looking at waxing products, and amongst my choices were tons a products that I had already used for hair removal that I swore I would never buy again. I then turned my attention to the epilators, prices ranging from 74 dollars to 15 dollars. There were also plain electric shavers which always irritated my skin. I picked this one up believing that it was cheap enough (20 dollars...read more) that even if it didn't work or if I didn't like it then it wouldn't be too bad. Keep in mind I have very, very, sensitive skin and I am very prone to ingrown hair. Well, I just have to say that I really love this thing, everyone that says that it hurts are completely exaggerating. It doesn't hurt even as much as tweezing your eyebrows. By the way it is so small that you can bring it with you anywhere you travel to. I use this everywhere, the results are fab.

Ouch!

Okay I bought this thinking it would be good for those litte upper and lower chin hairs, could not have been more wrong! It leaves stubble like you have shaved! If I wanted that effect I'd pick up a razor! Not to mention it hurts so bad when it's pulling them out my eyes started to water!

Back
to top