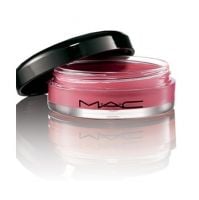 This is the best

Not only does it condition your lips, it also makes your lipstick last longer. And, it has SPF; so important for all parts of your face and body.

MAC Tinted Lip Conditioner SPF 15

Purchased this while at the MAC counter for something else. Didn't feel like running all around for a tinted balm. I lucked out. I purchased only to wear to gym sans makeup however find myself using this all the time! color is bright in the jar but applies super sheer. I have pigmented lips & it's just gorgeous. After my workout i am left w/ a slight stain & conditioned lips. I only apply using a ...read moreEcotools eyeshadow brush. Comes out perfect every time & it doesn't mess up the product. A definate staple in my bag. I gotta be honest when I say that I only bought it because it was MAC. I did not have much expectation for the product itself, BUT it is honestly the absolute best lip balm ever. I have tried many balms, but this one moisturizes like no other. I put it on at night and by morning my lips are so, so soft :) It gives a hint of pinky color and smells really good. The taste is slightly sweet, but not gross. I LOVE this balm so much and will buy it again for sure. I like this lip conditioner and have bought it twice. It is not the best or the most moisturizing, but it does give a bit of a pink glow. One of the main purposes I use it for is actually to put a bit on my cheeks for a pretty, dewy blush. I'm not really a fan of carrying makeup around for touch-ups, so near the end of the day when I'm starting to look a little pale and bedraggled, I put some of this on my lips and on my cheeks and I feel like I look instantly fresher. Or, on the weekends or days off when I really don't want to put on much makeup, or when I'm just going to the gym, I just put on mascara, some of this on my lips, and a bit on my cheeks. Fresh and pink! This lip conditioner is just average, it is creamy and keeps my lips smooth. Don't expect any miracles from this though, I do like the hint of pink, and the packaging can be a little bulky at times, the spf added in it is a little added bonus for me. First of all, this smells AMAZING! I personally love sweet-smelling fragrances, and this lip conditioner smells like vanilla cupcakes. It feels super soft on your lips and moisturizes nicely :) It also gives a hint of color, which I love because I'm not a big lipstick person.

I'm in love with this :)

I used to think that MAC was overrated... but I keep finding more and more MAC products that I love! I have this in Hello Kitty - Popster. This is a hot pink color that applies fairly sheer, but can be built up. PROS: Decent price. Love the buildable color. Nice and moisturizing. Like that it has SPF 15! LOVE LOVE LOVE that MAC collaborated with Hello Kitty :) CONS: I don't like pot glosses in general, but at least this is a nicely sized one. Overall, I'd definitely repurchase this!

Back
to top