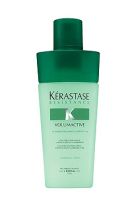 Kerastase Spray Volumactive
As low as
The Best Hair Day EVER!

I have been having A GREAT HAIR WEEK. I have never had hair like this - all owing to Kerastase Resistance Volumactive spray. That is it - I did the elimination diet on my hair regime and have entirely scientifically proved that this is the secret to my bouncy, smooth-but-piecy hair lately! Okay - so what does this have to do with great drugstore finds? They now carry it at my local drugstore and g...read morerocery store! This means that one doesn't have to purchase it from a pushy hair salonista anymore - or over the internet. Kerastase is owned by L'Oreal Inc., who owns a multitude of premium and drugstore beauty brands - which means that the patented ingredients in one is able to be used in all. For those of you thinking that Kerastase is out of your budget, L'Oreal has introduced the EverPure line of shampoos, conditioners and treatments - and they are amazing, especially for the price. The EverPure line boasts a wonderful attribute for those with color-treated hair - SULFATE-FREE. Sulfates are those ingredients in hair products that make produce lather - the sudsy, creamy glee of shampoo. Not for people with damaged or colored hair, though - too rough. So EverPure is packed with herbs likee rosemary and mint, and more tress-friendly surfactant care. I adore the EverPure Volumizing Shampoo and Conditioner. The silver foil futuristic packaging is also travel and shower friendly - a flip-top tube rather than a clumsy bottle! The Moisturizing Shampoo and Conditioner are great when it is dry outside and my hair is more brittle and crispy than usual, and the Smoothing duo is great for the humid Washington DC weather in the summer. They are usually priced at $7.99 - but go on sale for only $5.99 apiece - a huge bargain for this type of aromatic hair care. The line includes an intensive masque for dry hair and a UV spray protectant as well - all of which I consider mini-Kerastases in their own rights. I have used the Chroma Line of Kerastase - for colored hair - and have found little difference between the Chroma and the EverPure! Anyway - sorry for the rant, but a good drugstore tip - both HIGH and VALUE brand shampoos are both available at your local mass retailer, and you can use coupons for both! :)

My favorite expensive hair product

My hair stylist introduced me to this conditioning and/or styling spray. I love it, and it is the most expensive hair product I use. I spray and then comb it through my wet, clean hair. It makes my hair so shiny and so easy to style. This spray is effective and very light. It does not weigh down hair or make it sticky. I usually do not like scented products but I like this fragrance.

Back
to top