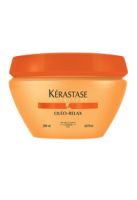 LOVE LOVE LOVE IT!!

I first tried this when I went to Spain. I fell in love with this product. It made my straw like wavy hair manageable. I would only use this as my alternative treatment masque as it is pricey. However, I really enjoy the thickness of this product as I don't have to use as much to make it effective.

Very smooth creme

This smells like roses and feels like butter. I bought this in the huge 8.5 size from Isreal. I couldn't understand the directions because they aren't in English so I improvised with this product. I use it once a week for a moisture, deep condition blast. It's a bit pricey but lasts awhile. My hair was silky after I used it.

This whole line is very addictive, beware.

I will never use another brand. Really I know that a serious statement but Kerastase whole linie is amazing. I read before that its very addictive, and its true. Its worth the money though. My hair is soft, shiny, touchable, its really amazing.