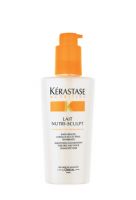 Pretty good.

This product doesn't style the hair but it controls frizz and smoothes hair without being oily. My hair didn't become greasy because this absorbed into the hair, giving moisture. For hair cremes, this is one of the better ones. It doesn't have any strong smell nor bad odor like many hair cremes have.

Great product for thin/fine hair

Having thin hair, product usage can be tricky because almost everything that doesn't totally dry out my hair, will usually make me look like I went head first into an olive oil factory. Enter Lait Nutri Sculpt...I love it...can't say enough good things about it. Gives me, mortal woman the ability to achieve the perfect blowout and makes my split ends in between cuts disappear. Don't use too much - little goes a long way.

I use after every shampoo

I use this along with the Oleo Relax, and am very please with the products.

Back
to top