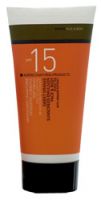 Korres Natural Products Sweet Orange Sunscreen Face & Body Milk SPF 15
As low as
In my opinion, NOT for face

Oh, it smells not very pleasant at all! I thought it would smell like 'a sweet orange'! But the smell is odd... It does not absorb terribly well; even after several hours of applying to a clean face, my skin was still a bit sticky. I can't imagine trying to put on make up over this. Finally, after wearing this all day, my skin looked a bit irritated, like if I wore this sunscreen for another day ...read moreor two in a row, my face would seriously break out. Being scared of that, I will use the remainder of what I have of this product on my body, but I will never buy again as I am looking for something I can use on my face.

mostly good, interesting smell

The sweet orange smell is really nice, but there's some odd scent underneath the main one that isn't too discernible, luckily, but is still a little weird. I can't tell what it is; it's almost a little medicine-like, though. Anyway, I think this sunscreen goes on fairly well, but it's definitely expensive for what it is. I prefer to use it just on my body, and use something lighter for my face.

works like a charm

this sunscreen smells wonderful. goes on smooth and is easily absorbed. no sunburn after being in direct sun for over an hour.

Back
to top