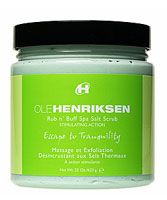 Ole Henriksen Rub N Buff Salt Scrub
As low as
An Aromatic Way to Silky Skin

Despite continual moisturizing, the bitterly cold weather and snow have wreaked havoc with my entire body, from my lips to my fingers and toes. I purchased Ole Henriksen's "Rub N Buff Salt Scrub" for $48.00. That's a lot of money and a splurge for me, to be sure, but Henriksen products simply never let me down. It is formulated mainly of sea salt and glycerin, but the salt dissolves com...read morepletely and leaves you incredibly silky-soft and revitalized in mind, body, and spirit. It is a gentle green color with an equally gentle scent. The lavender contained in the formula soothes, renews, and repairs winter-whipped skin; lemongrass essential oil releases muscular tension (how wonderful is that?) while detoxifying; and the salt deeply cleanses and exfoliates away old, dry skin cells. No matter how low the temperatures dip, I'm not afraid. It's my personal "private island" in the middle of winter! (Of course, it can and should be used all year 'round for glowing, touchable skin.)

Disappointing

I love the wonderful scent of this scrub. It smells heavenly, like you're at a high-end spa. However, the salt dissolves immediately so it is not an effective scrub.

Sexy Silky

I love this body scrub.....it makes me feel like silk..... this product is emulsified so you actual get the scrub on your body and not all over the tub......Best practices....use product on a dry body then follow with a warm water rinse..... if you need to shave scrub first then shave to prevent burning and you'll get a closer shave.

Back
to top