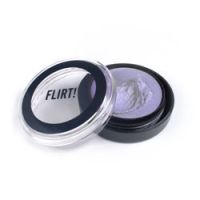 Editor's Rating & Review
If a subtle wash of shimmery color is what you're after, then you've found a winner. This mousse glides on easily when applied with a fingertip, and as you blend it in, the color becomes very sheer. It makes a great base for powder shadow to cling to if you're after a more dramatic or bold color look. Otherwise if you attempt to apply more of the mousse to achieve deeper hue, you'll notice creasing midday.
Reviewed by Kristen on 09/25/2007

How we review products
need more !

i only have Sand Castle. But i love it. It's very natural looking with a little bit of shimmer. It stays on longer than any other eyeshadow i have. will be purchasing more colors next time i go to kohl's ( :

Flirt mousse eyeshadow in Cross My Heart.

I love the flirt mousse eye shadow 07 "cross my heart". I bought it at Kohls several years ago and they don't carry it anymore. Does anyone know where I might purchase this?

Good cover

Works without staying in wrinkles.

Back
to top